COVID-19 Related Policy Briefs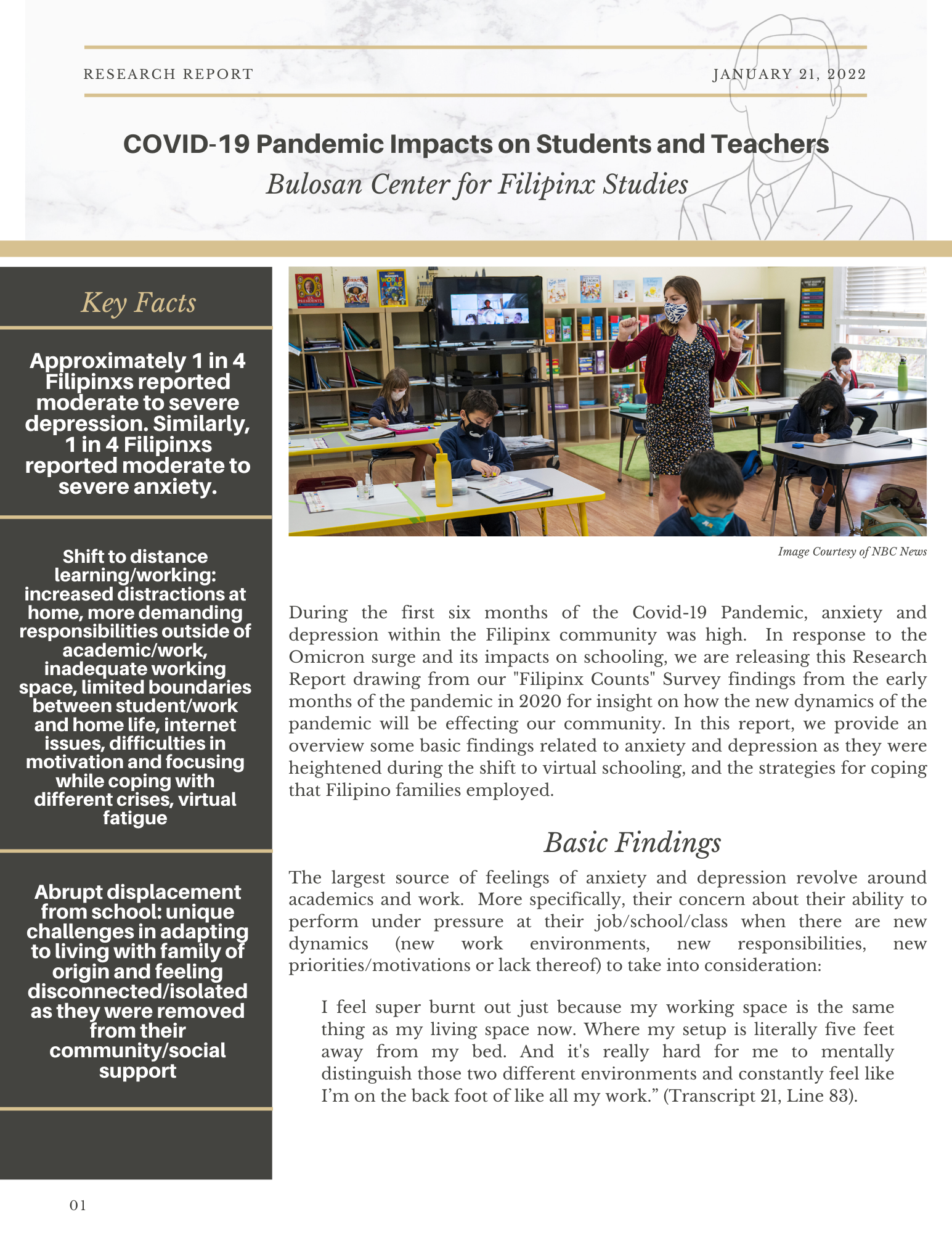 COVID-19 Pandemic Impacts on Students and Teachers
The impact on mental health from remote teaching and learning during the COVID-19 pandemic.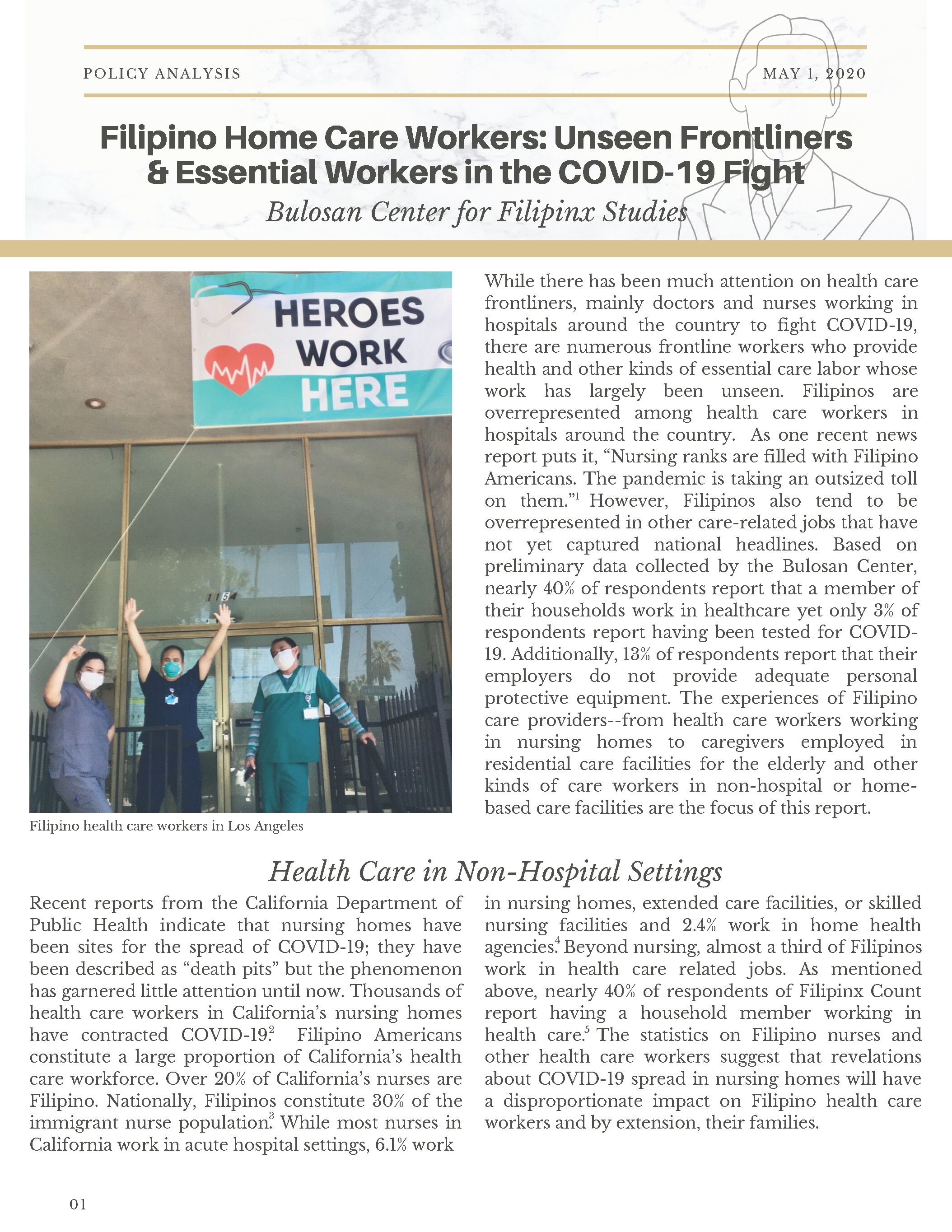 Filipino Home Care Workers: Unseen Frontliners & Essential Workers in the COVID-19 Fight
Health care in non-hospital settings, two crises of care for home care workers.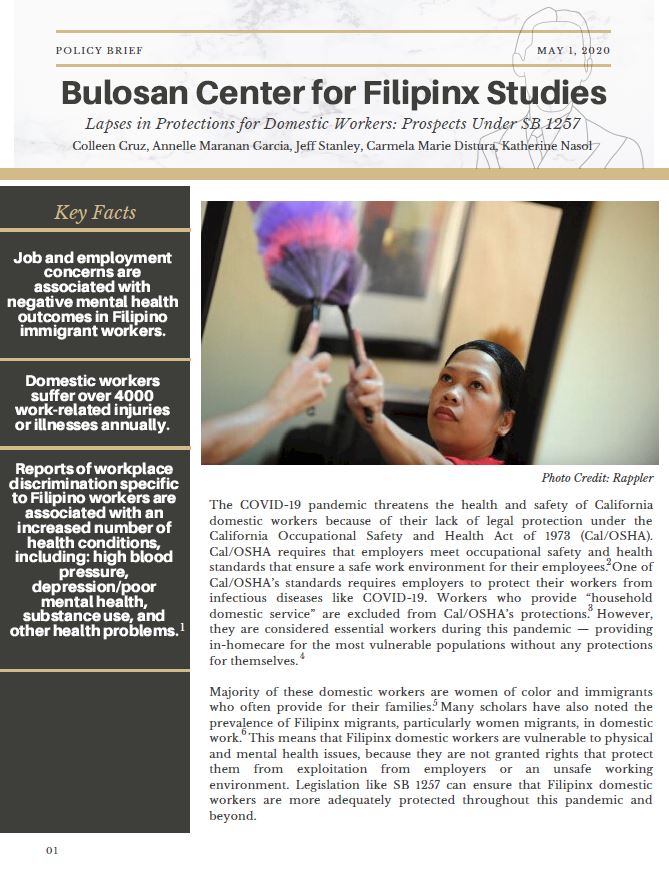 Lapses in Protections for Domestic Workers: Prospects Under SB 1257
Main health and occupational health issues among domestic workers, issues affecting Filipino and Immigrant Women Workers.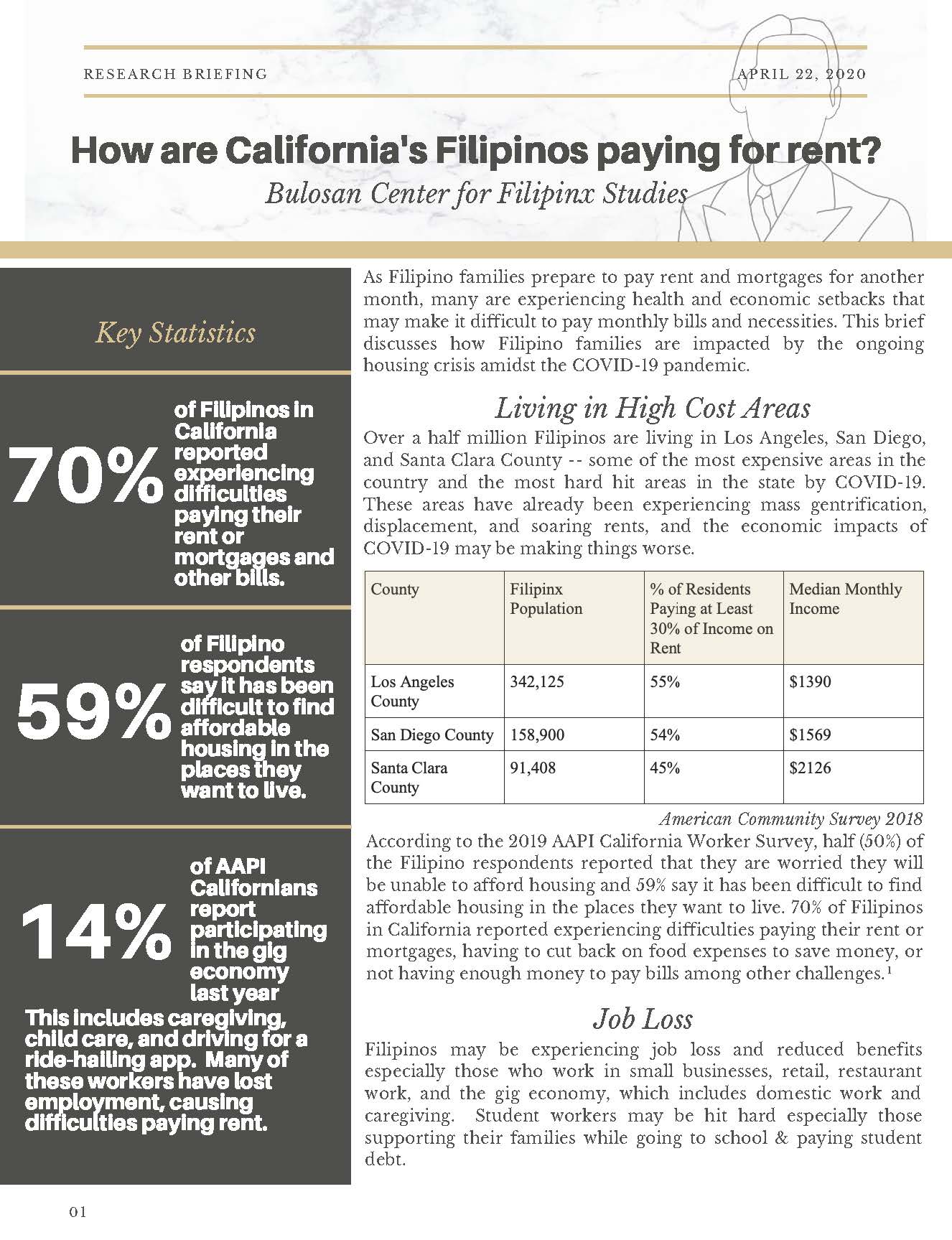 How are California's Filipinos paying for rent?
Living in high cost areas, job loss, and uneven tenant protections.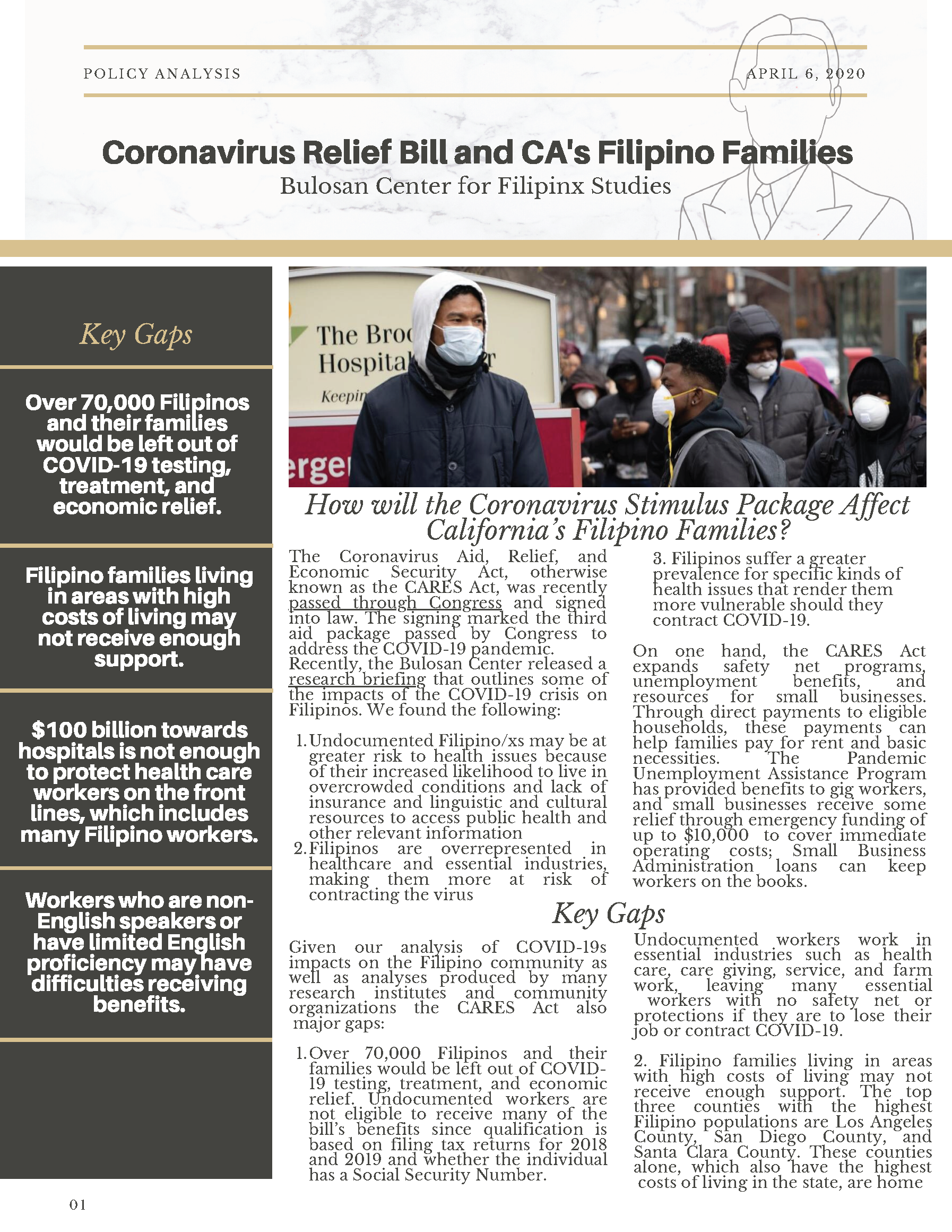 Coronavirus Relief Bill and CA'S Filipino Families
How will the Coronavirus stimulus package, also known as the CARES Act, affect California's Filipino Families?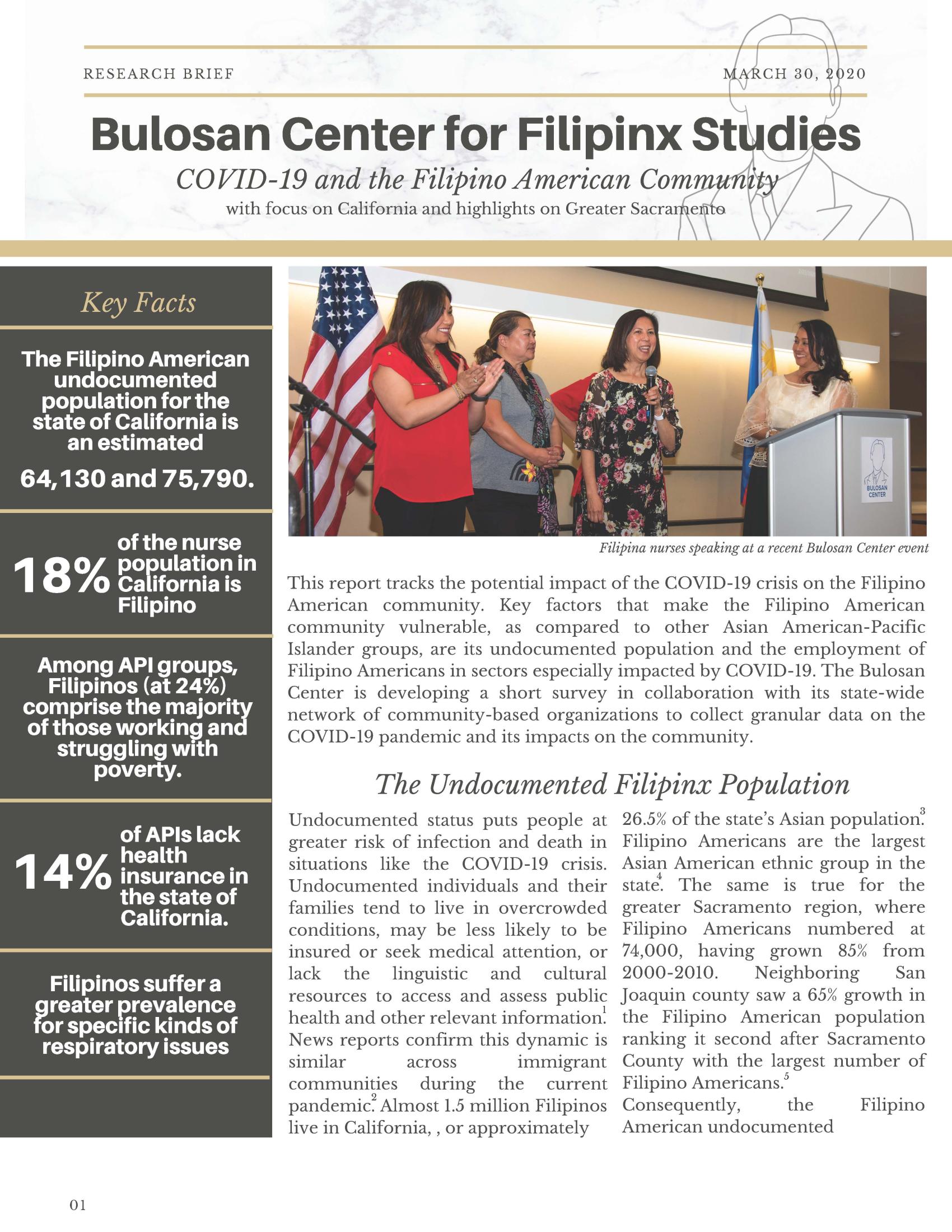 COVID-19 and the Filipino American Community
This report tracks the potential impact of the COVID-19 crisis on the Filipino American community. Key factors that make the Filipino American community vulnerable, as compared to other Asian American-Pacific Islander groups, are its undocumented population and the employment of  Filipino Americans in sectors especially impacted by COVID-19. The Bulosan Center is developing a short survey in collaboration with its state-wide network of community-based organizations to collect granular data on the COVID-19 pandemic and its impacts on the community.
Background
After community discussions and dialogue from the Symposium, the Bulosan Center created policy briefs to articulate the issues that the Filipino community faces, as well as provide policy suggestions that tackle these issues.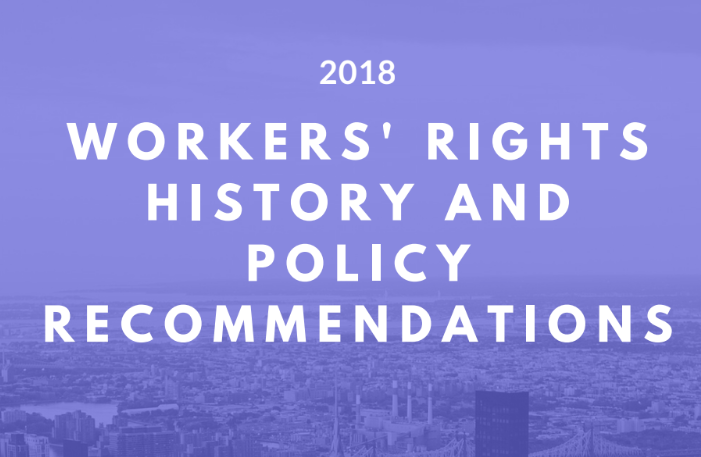 Workers' Rights History and Policy Recommendations
In the Filipino community, workers' rights issues are intimately tied to issues of gender-based discrimination and immigration. Advocates have noted the feminization of migration to the United States, where primarily Filipinas are used as low-wage labor in industries such as home health care, nursing, domestic work, and teaching. Workers experience human rights violations such as threats of deportation, debt bondage, trafficking, wage theft, and sexual assault due in part to the isolation of these industries and lack of legal protections. BCFS is researching trends regarding workers' rights for the worldwide filipinx population.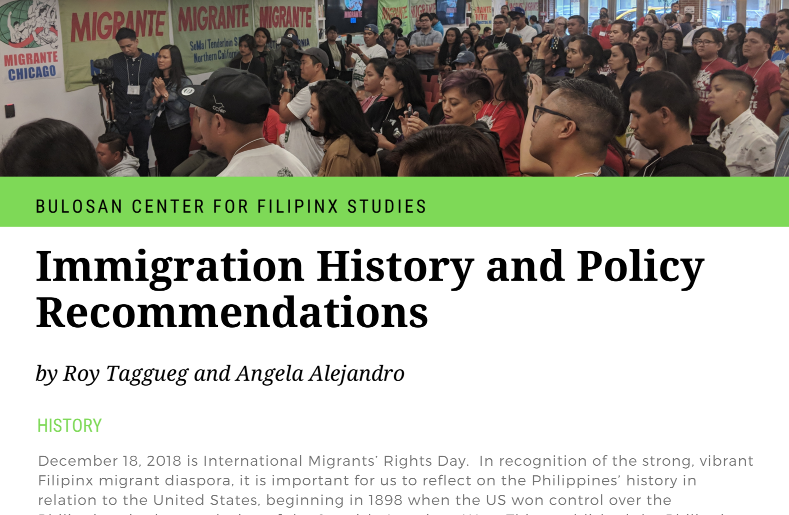 Immigration History and Policy Recommendations
December 18, 2018 is International Migrants' Rights Day. In recognition of the strong, vibrant Filipinx migrant diaspora, it is important for us to reflect on the Philippines' history in relation to the United States, beginning in 1898 when the US won control over the Philippines in the conclusion of the Spanish-American War. Today, it is estimated that over 10 million Filipinxs live outside of the Philippines (Commission of Filipinos Overseas 2015). BCFS researches trends affecting the worldwide Filipinx population.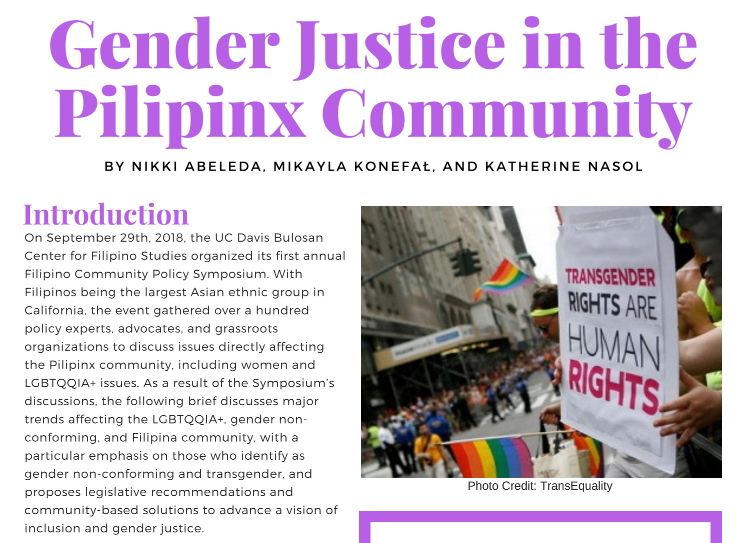 Gender Justice in the Pilipinx Community
Many Filipinas and LGBTQQIA+ community members are impacted by poor self esteem, mental health issues, and exclusion from the larger Pilipinx community. Because of such pervasive stigmatization, LGBTQQIA+ Pilipinx and Filipina community members are more vulnerable to survival sex trade, human trafficking, and sexual assault in addition to challenges in accessing health care and employment with sufficient benefits and wages. BCFS will research major trends affecting the LGBTQQIA+, gender non-conforming, and Filipina community, with a particular emphasis on those who identify as gender non-conforming and transgender.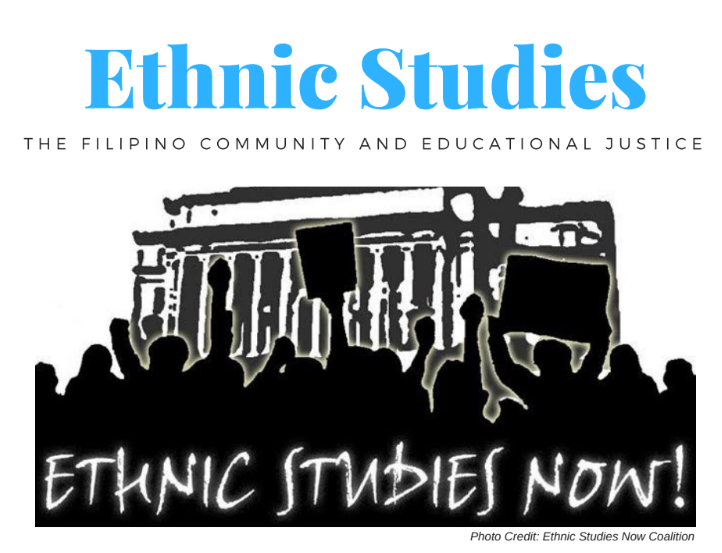 Ethnic Studies
Ethnic Studies has, thus, been shown as a solution for this gap in retention. Studies have proved that culturally relevant studies increase youth empowerment, political and social awareness,attendance, and GPA (Stanford-SFUSD 2016). In looking at San Francisco State students who major in Ethnic Studies, majors graduate at a 20% rate higher than non-ethnic studies majors. With AB 123 passed in 2013, now Filipino students are able to learn about the histories of Filipino farmworkers in school, and larger statewide bills could prove to build strides to increase retention and school engagement among the Filipino and larger community.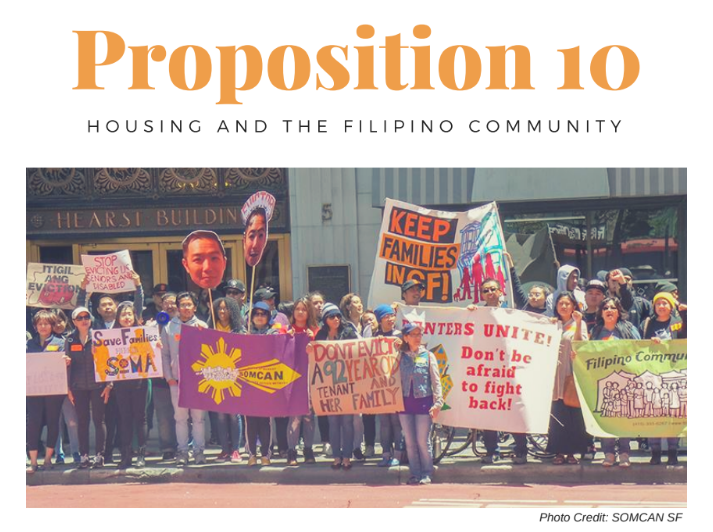 Proposition 10
Proposition 10, also known as the Local Rent Control Initiative, repeals the 1995 Costa Hawkins Act -- a law that that prohibits most units built after 1995 from being rent controlled. The Act limits city governments and local jurisdictions from imposing rent control regulations, allowing units to be priced at free market rates after rent controlled tenants leave. Opponents believe that Prop 10 does not address housing shortages and that it restricts homeowners from renting a room in their home through imposed price controls. However, Prop 10's repeal of Costa Hawkins Act will prevent landlords from imposing high rent increases and give local communities the power to adopt rent control.