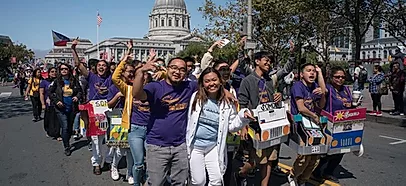 Filipino Advocacy Day is a day that brings together organizations and communities across California to support progressive policies that will uplift and protect the rights and welfare of the Filipino community and other marginalized groups. The Day is convened by LEAD Filipino with the help of UC Davis Bulosan Center for Filipino Studies, and in collaboration with a network of community based organizations and policy makers dedicated to building the political presence of the Filipino community on a statewide level.
Filipino Advocacy Day is an opportunity to continue shaping history and uplift the rights and welfare of the Filipino community. During May 2018, Filipino community members and leaders attended the California Asian Pacific Islander Legislative Caucus Summit, and noticed the dearth of Filipino organizations, non-profits, and elected officials to represent our community's realities and needs.
In response to the lack of state-wide political power, the Bulosan Center supported LEAD Filipino by offering logistical assistance, helping connect and network our contacts together, to organize the first Filipino Community Policy Symposium in September 2018. The Symposium gathered over 100 participants and 25 organizations across the state to capture what issues are impacting our community and what policy recommendations we should bring to the State Capitol. Organizations discussed eight prominent issue areas including health, education, workers' rights, and immigrant rights, and the discussions have culminated into a 2019 Filipino Policy Agenda.
Putting the 2019 Policy Agenda into action, the California Filipino Advocacy Day aims to focus on one to two initiatives that speak to the recommendations put forth in our agenda. These two bills focus on educational justice and workers rights: AB 331: Ethnic Studies as a High School Requirement. Following the lead of youth organizations and ethnic studies coalitions, we are in support of this bill in pushing for culturally-relevant education. A Domestic Workers Outreach and Education Program within the California Division of Labor Standards Enforcement. Following the lead of the California Domestic Workers Coalition, we are in support of this program to further educate and protect workers in our community from wage theft, human trafficking, and workers' rights violations.
To learn more about Filipino Advocacy Day, and check out our Facebook Page at facebook.com/bulosancenter for updates.
A Brief History of Filipino Communities in California
Filipino Advocacy Day stems from the history of Filipino migration and movement building in California. In the early 1900s, Filipinos migrated to work in California's agricultural fields after the Philippine-American War due to the wars' devastation on the Filipino people and lack of economic opportunities in the Philippines. Filipino migrant workers, known as Manongs, developed communities in areas like Stockton and San Francisco, and were subject to racial discrimination and violence. Yet, Filipino migrant workers became known as organizers, bringing their skills of organizing in the Philippines to California to push for workers rights and human rights in the fields, as well as in the Philippines. Since the 1900s, Filipinos have played a historic role in leading movements that have shaped California history and beyond:
The fight to protect Manongs at the International Hotel from eviction and displacement.

The contributions of Larry Itliong in organizing the Grape Strikes in Delano and the United Farmworkers Movement.

The role of Philippine American Collegiate Endeavor (PACE) in the Third World Liberation Front in pushing for Ethnic Studies at San Francisco State University.

The many groups who resisted Martial Law and dictatorship in the Philippines in the 1970s to now.

The victory of Filipina domestic workers, in coalition with the multi-ethnic CA Domestic Workers Coalition, who contributed in lobbying for the California Domestic Workers Bill of Rights to be passed in 2013.
Currently, 6000 Filipinos leave the Philippines every day due to joblessness, environmental disasters, and lack of national industrialization in the country. This number has risen due to the human rights violations from the Duterte government. The US now holds the largest population of Filipinos outside the Philippines with California hosting the largest Filipino populations in the country. Key issues impacting Filipinos in California include deportation, gentrification, and workers rights violations such as human trafficking and wage theft. Under the current Trump administration, much of these issues have worsened due to anti-immigrant sentiment and cuts towards social services and protections. Despite these challenges, Filipino and allied organizations have continued to be engaged locally, nationally, and globally through coalition-building, transnational campaigns, and lobbying visits to the Capitol.
Event Summary
We would like to thank everyone who supported Filipino Advocacy Day 2019, the first Filipino Advocacy Day in the state's history in fifty years! From leading training sessions, joining in on conference calls, writing support letters, to bringing coffee and adobo, we thank every person who made this day possible. We also want to recognize those who were unable to attend but cheering us on from afar, especially to our fellow workers and students.
LEAD  Filipino and the Bulosan Center helped convene twelve Filipino and Filipino nonprofits, student organizations, and grassroots groups from across California came together to advocate for AB 331 (Ethnic Studies), a Domestic Workers Education and Outreach Program, and tenant rights! Around 70 participants of primarily high school and college youth joined in meeting 25 legislators throughout the day.
For those who would like an online copy of our Policy Agenda from Filipino Advocacy Day 2019, check out our agenda at tinyurl.com/fadpamphlet
​