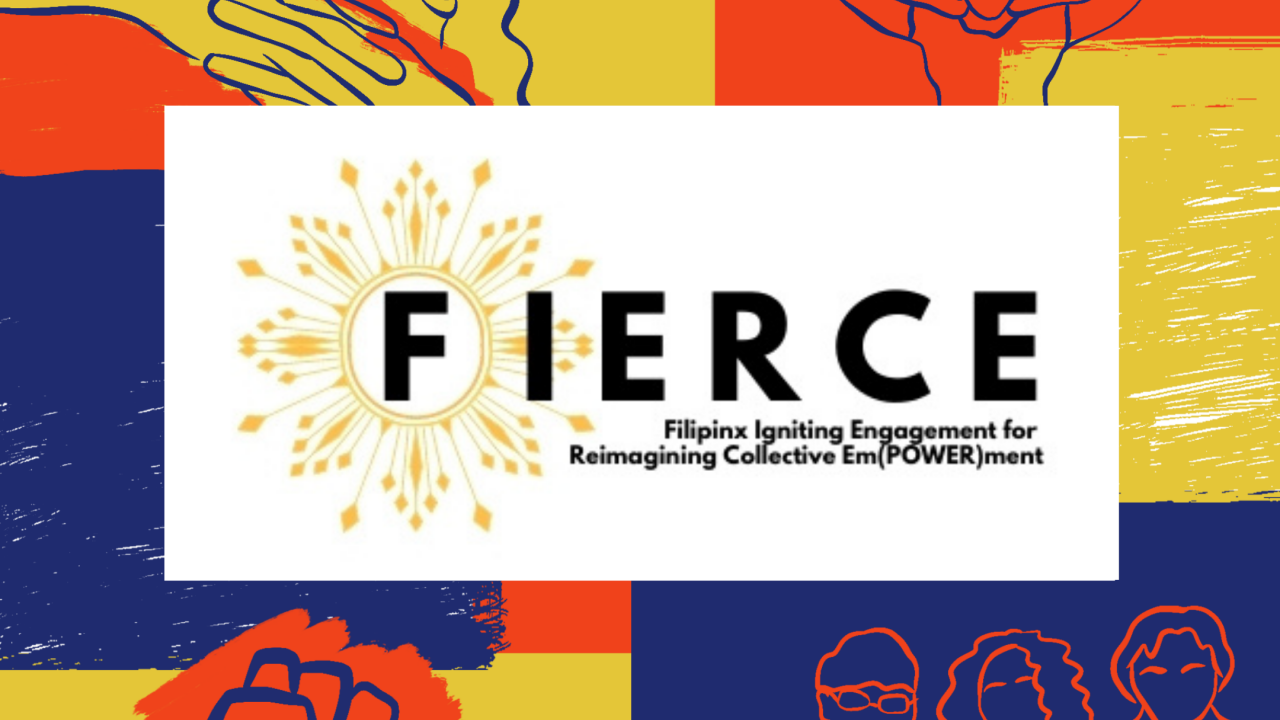 FIERCE (Filipinx Igniting Engagement for Reimagining Collective Em(POWER)ment)
INTRODUCING THE FIERCE COALITION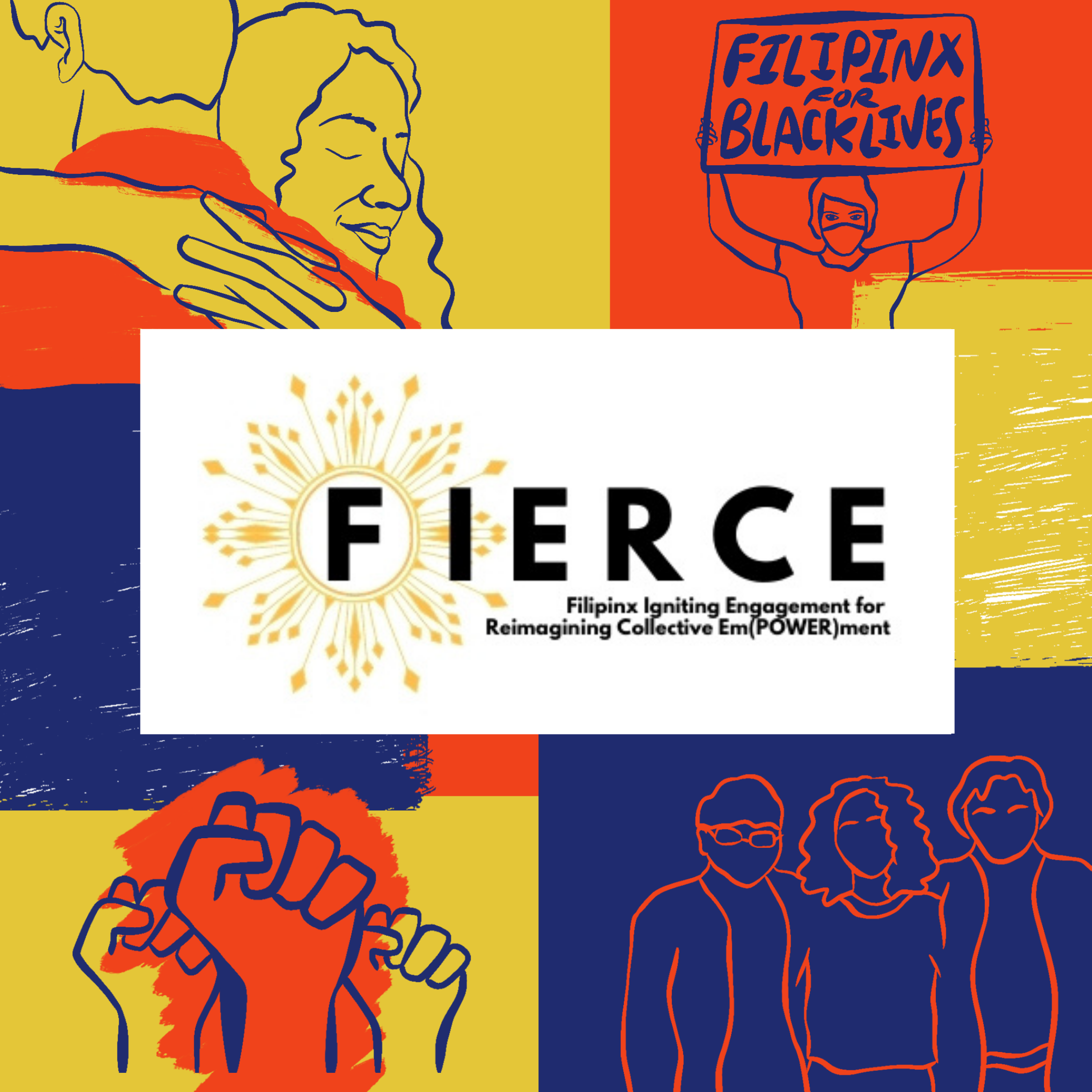 Filipinx Igniting Engagement Through Re-Imagining Community EmPOWERment
The conveners of the Filipinx Policy Steering Committee proudly announce their rebranding as the FIERCE Coalition, which seeks to advance issues of Fil Am interests in Sacramento.
Since 2018, the FIERCE Coalition has actively organized two statewide Policy Symposiums, produced the 2019 Fil Am Advocacy Day in Sacramento, and hosted a statewide 2020 Filipinx Town Hall on Anti-Blackness in response to the murders of George Floyd, Breonna Taylor, and Ahmaud Arbery. 
Advocating on issues of Ethnic Studies, Civic Engagement, Health and Human Services, Justice Reform, and Workers' Rights, the voices of the FIERCE Coalition have influenced several legislative and public policy wins in California including: 
Secured $1 million in funding for the Bulosan Center for Filipino Studies at UC Davis

Helped advocate for $5 million to establish an Education and Outreach Fund for Domestic Workers

Communicated the need for additional  funding to support complete Census counts for the Filipinx community

Advocated for the passage of AB 1481 to mandate just cause evictions and increase tenant protections amid the housing crisis

Furthered conversations on AB 331, which seeks to mandate Ethnic Studies in public high schools
In addition to achieving material wins for the community, FIERCE has engaged significant numbers of youth, students, families, and seniors from across the state:
57 engaged at 2019 Filipinx Advocacy Day in Sacramento 

167 in attendance at 2020 Statewide Filipinx Policy Symposium on Feb 1 at CSU East Bay

481 in attendance at 2020 Filipinx Town Hall on Jun 17
Nothing has shaken our community in modern history more than the devastation of COVID-19 and the need to rally for racial and economic justice.
The FIERCE Coalition is focused on ensuring communities most impacted and vulnerable are at the forefront of policy-making & governance. We call on all Filipinx  community based organizations, nonprofits, collegiate organizations, and businesses to join in a shared movement to organize our powers and resources in 2021 and beyond in Sacramento.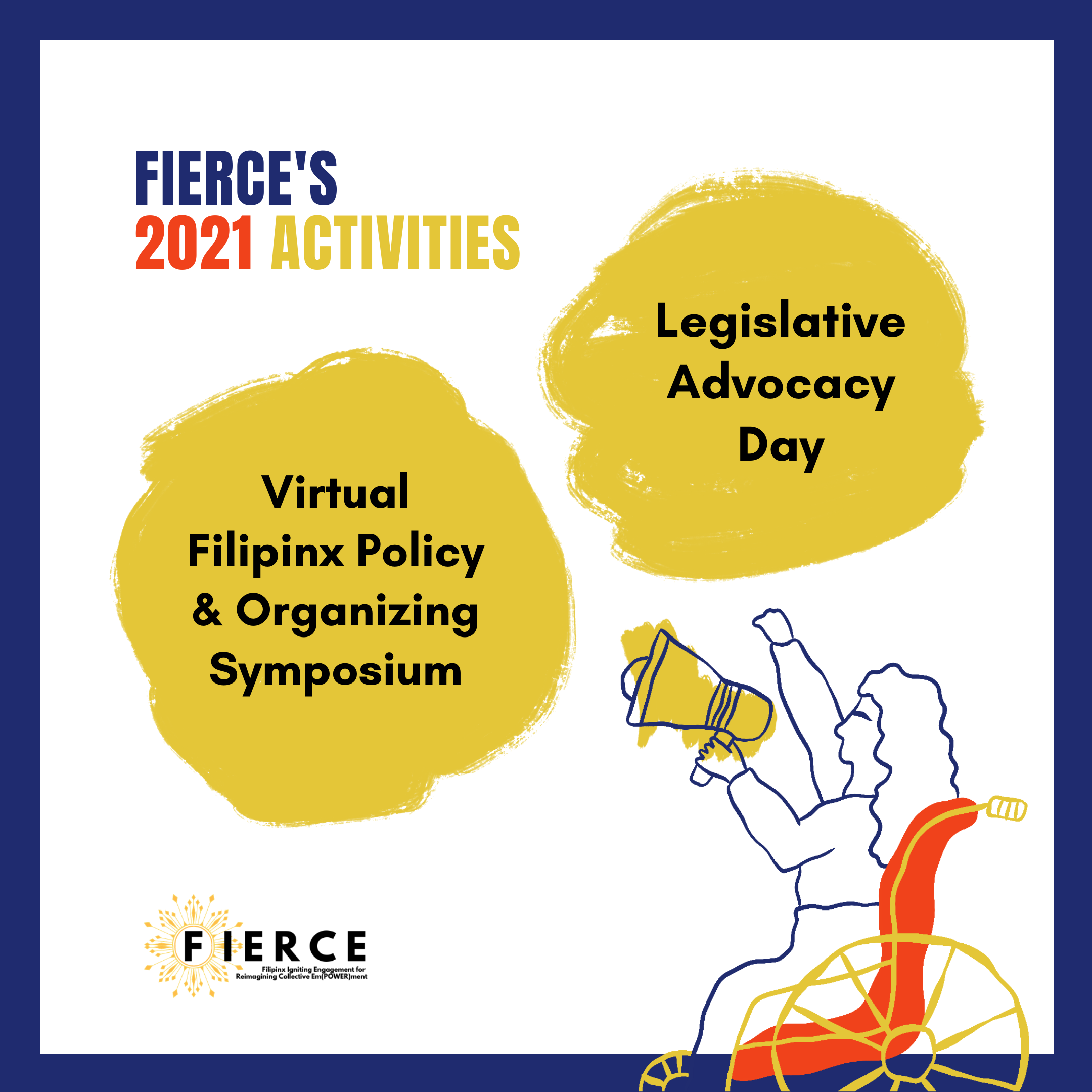 FIERCE Coalition 2021 Activities:
January:  Organizing & Advocacy Day Training 

February 6th-7th: 2021 Virtual California State Filipinx Policy and Organizing Symposium 

Wednesday, April 21st:  2021 Virtual Filipinx Legislative Advocacy Day 

To learn more about FIERCE Coalition membership, please contact: Angelica@LEADFilipino.org or Gabe@LEADFilipino.org.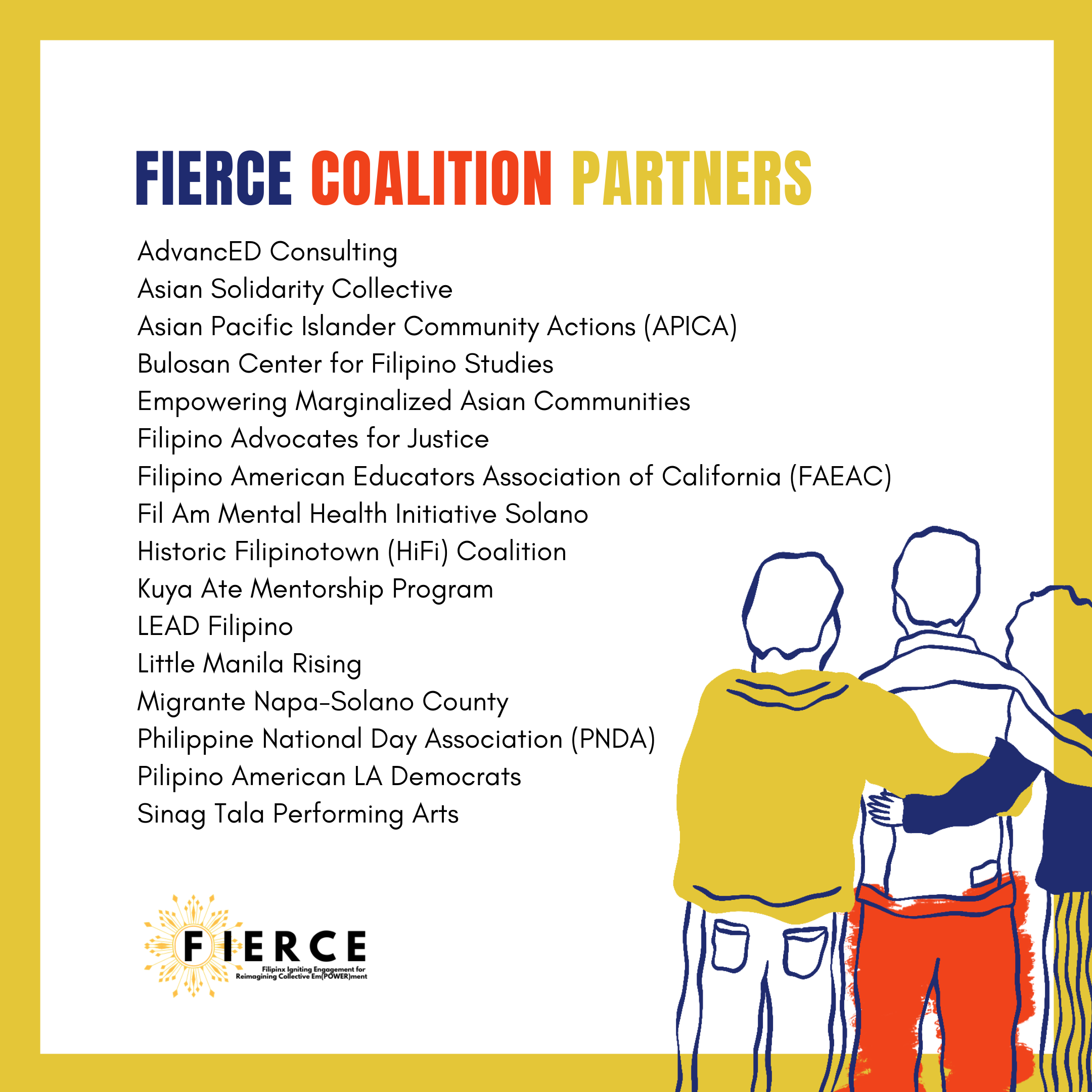 FIERCE Coalition Partners:
AdvancED Consulting

Asian Solidarity Collective

Asian Pacific Islander Community Actions (APICA)

Bulosan Center for Filipino Studies 

Empowering Marginalized Asian Communities

Filipino Advocates for Justice 

Filipino American Educators Association of California (FAEAC)

Fil Am Mental Health Initiative Solano

Historic Filipinotown (HiFi) Coalition 

Kuya Ate Mentorship Program

LEAD Filipino

Little Manila Rising 

Migrante Napa-Solano County

Philippine National Day Association (PNDA)

Pilipino American LA Democrats

Sinag Tala Performing Arts