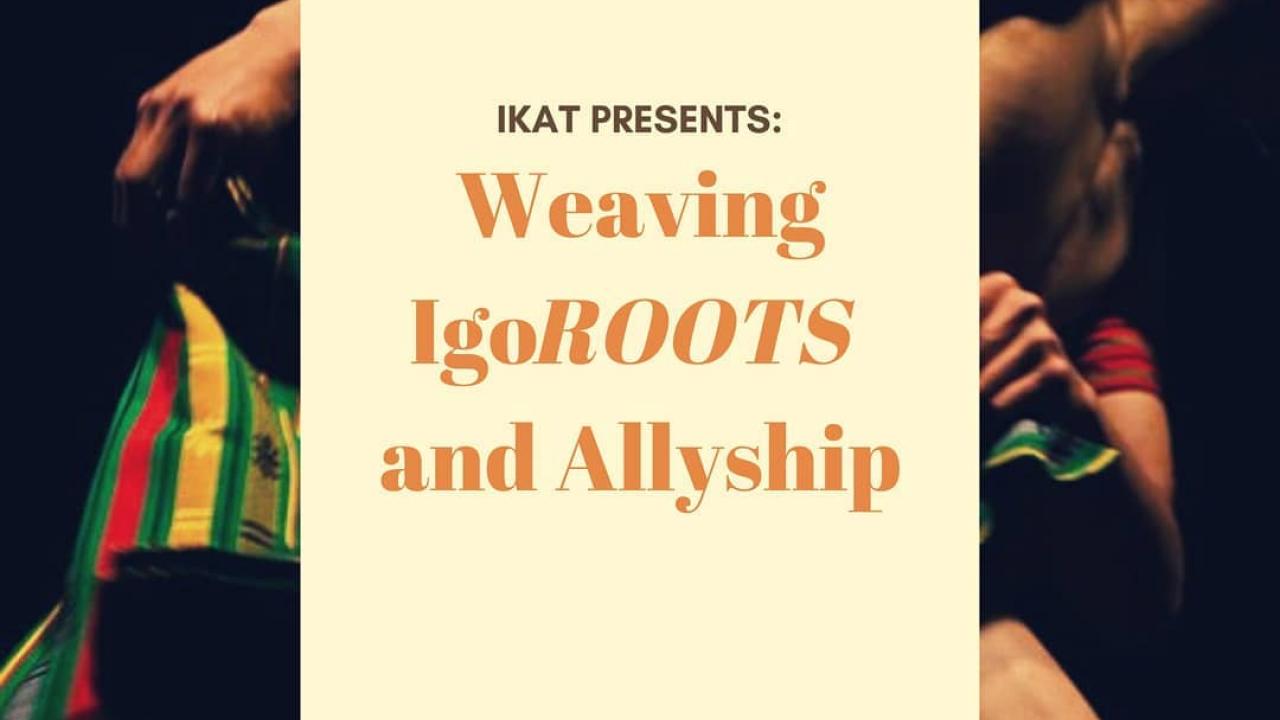 Written by Jelena Lapuz, Bulosan Center Communications Team Intern, Summer 2020
Indigenous Knowledge, Art, and Truth (IKAT) presented "Weaving IgoROOTS and Allyship" on Saturday, August 8 from 5 p.m. to 7 p.m. Co-sponsored by the UC Davis Bulosan Center for Filipino Studies, this event was hosted via Zoom and drew over 600 attendees from all over the world to listen to IKAT voices and allies discuss Indigenous history, current issues, and ways to promote allyship. Speakers included J.A. Ruanto-Ramirez, Kerri Somebang, Kirin Amiling Macapugay, Margaret Palaghicon Von Rotz, Mark Leo, Nicole Saley Diwag, DJ Kuttin Kandi, Robin Kitana Aquilizan, and Gretchen Carvajal. 
The presentation began with the IKAT speakers, who explained how over 150 ethno-linguistic groups exist in the Philippines, but only certain groups are considered Indigenous. Each of these groups has its own unique political history, but the term Indigenous is different because it refers to being a political identity. 
J.A. Ruanto-Ramirez, also known as Manong Joseph, gave a brief history of Philippine historical periods and explained that 110 ethno-linguistic groups comprise the Indigenous Cultural Communities (ICC) and Indigenous Peoples (IP). 
Kerri Somebang recounted a personal story from her past that revealed the identity struggle often faced by Indigenous Filipinos. While at the store, she was approached by a random Filipino passerby who tried to speak to her in Tagalog. However, her parents did not speak Tagalog and neither did she. Despite being able to understand Ilocano and an Igorot language, she was dismissed as not being a "real" Filipino because of her inability to speak Tagalog. This event affected her identity for a while, to the point where she thought of herself as Igorot first and did not consider herself Filipino. 
Manong Joseph explained that Pilipino Culture Night (PCN) started in the 1970s at San Francisco State University. Since the event grew in popularity, there have been inaccurate Indigenous representations in performative spaces. He further explained that Igorots are often seen as "relics of the past" and "something that can be collected." As a result, things that are held sacred in Igorot culture have become "decorative," such as tribal tattoos.
Mark Leo discussed the perception of Igorots as "other" in Filipino culture and also brought attention to the lack of Indigenous narratives in Filipino Studies.
Nicole Saley Diwag and Margaret Palaghicon introduced a series of slides titled, "A Filipinx How-To on Confronting Anti-Blackness and Anti-Indigeneity: Moving Towards Personal Actions and Critical Thinking." These informational slides centered on several common questions Filipinos may ask themselves, as well as better alternatives to these questions. IKAT has also published this slide deck on their Instagram page.
For instance, "Instead of asking an Indigenous person, '....But aren't all Filipinos indigenous?'" a better question to ask would be, "How does the experiences of Indigenous People in the Philippines differ from my own experiences as a non-Indigenous person?"
Other questions included — but were not limited to — "What conversations should I have at home or with my friends?" and "How am I advocating for material, structural changes in solidarity with Black and Indigenous Peoples?"
Both Nicole Diwag and Margaret Palaghicon concluded their presentation with some inspirational words.
Nicole Diwag said, "There is no such thing as a single-issue struggle because we do not live single-issue lives."
Margaret Palaghicon said, "Sometimes the best form of learning is having it modeled for you."
The next segment was presented by the Voices of Allies, which focused on speakers DJ Kuttin Kandi from Asian Solidarity Collective, Gretchen Carvajal from BRWNGRLZ, and Robin Kitana Aquilizan from Bayani Art.
DJ Kuttin Kandi discussed anti-Asian racism and how to combat it. "It is when we are silent and complicit that we continue to uphold white supremacy."
Gretchen Carvajal spoke about the capitalistic oppression of Indigenous peoples. 
"We are a fragmented people," she said. "And our duty to our people is to not deepen that fragment." 
Robin Kitana Aquilizan promoted building bridges within the Filipino-American (Fil-Am) community and said, "As allies, we need to learn to recognize our privilege." 
To conclude this event, a question-and-answer discussion was held. 
If you would like to watch the recording of the workshop, please visit their website.